---
Saturday, June 15, 2019 -

Every week, we will preview the new "Sculpted Stone of the Week" on our EXTINCTIONS Facebook page:
https://www.facebook.com/ExtinctionsFossils. We hope you will visit this page often to see what is happening with our new store!

Steve Hess, EXTINCTIONS, Inc.
---
Dinosaur Fossil of the Week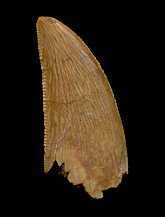 Large Raptor Tooth from Africa - Deltadromeus!
DSTRA740
---